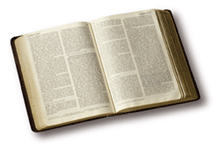 8. "Gesù Cristo è lo stesso ieri, oggi e in eterno".
(Ebrei 13°)
ULTIMI AGGIORNAMENTI
- Il patto di Daniele 9:27 di 7 anni si sta avvicinando. Il nuovo governo di Israele viene formato tra tanti compromessi. Il portavoce del presidente Trump è già in Israele per lanciare il piano di pace definito THE DEAL OF CENTURY (Il Patto o Accordo del Secolo). Il profeta dice nel Primo Suggello del 1963 che la Sposa non vedrà il patto firmato. Quanto tempo manca? Preghiamo e continuiamo a pregare senza stancarci (Luca 18:1). GUARDA
- Aggiornata la cartellina Messaggio - 2019. All'interno ci sono 500 prediche che possono essere scaricate sul proprio pc con un click. Che Dio sia lodato per tutto il Suo Cibo spirituale in questa ultima stagione. Amen!
- Fisierul cu MESAJUL in format PDF - 2019 a fost actualizat. Acum pot fi descarcat pe propriul computer.